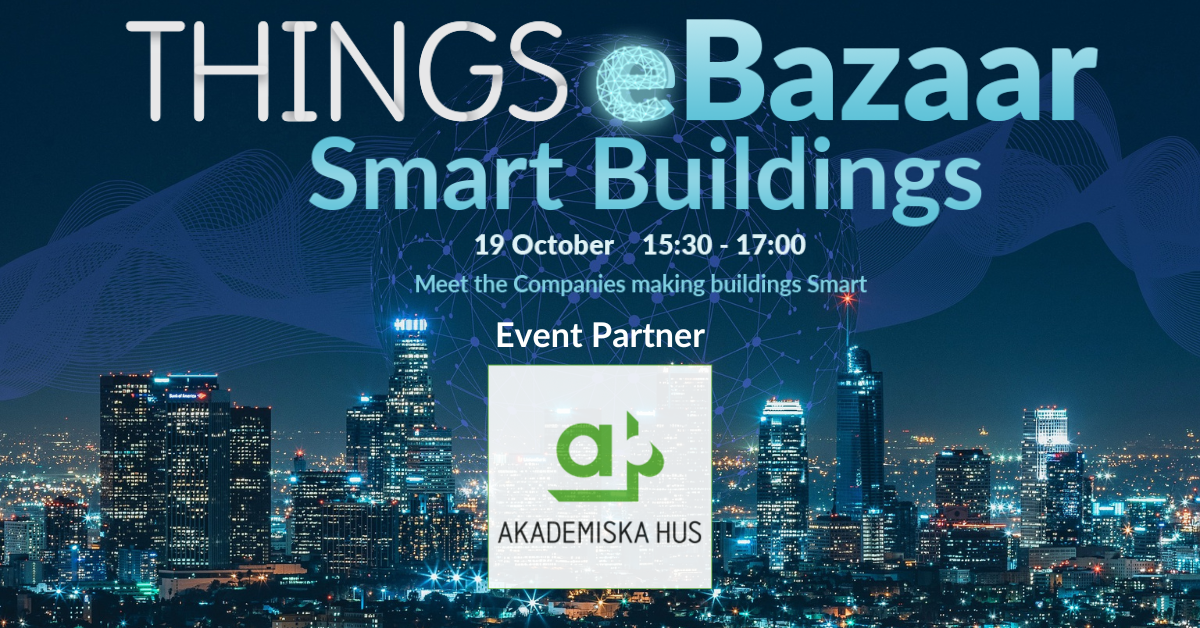 THINGS eBazaar™ Smart Buildings
Event Partner – Akademiska Hus
The THINGS eBazaar™ online event is a platform designed to help startups reach relevant customers, partners, investors, analysts, and media globally. It provides a unique opportunity for established companies to find new solutions to problems with smaller companies that are "corporate-ready."
More information can be found at THINGS eBazaar™ Smart Buildings events site.
Smart buildings are revolutionizing the way we interact with the built environment. Apart from energy efficiency, reduced green house gas emissions, smart buildings also offer a range of other benefits like improved indoor air quality, enhanced security, and real-time data on building performance and so on.
Leading companies are at the forefront of this trend, investing in innovative solutions that uses analytics, machine learning, and artificial intelligence to create smart buildings that are sustainable, cost-effective, and make enjoyable places to live and work.
By investing time and money in these technologies, companies can create Smart buildings that represent a major step forward in the quest for sustainability and a brighter future for all.
Our next event THINGS eBazaar™ Smart Buildings is scheduled  on October 19 from 15.30 to 17.00. It is free to attend for anyone interested in the topic.
Industry leads and technology experts from companies like Calumino, Hacarus and TEGnology are presenting. The speakers will provide valuable insights and information on a variety of topics related to startups and corporate innovation. This will be a great opportunity for networking with like minded people as well.