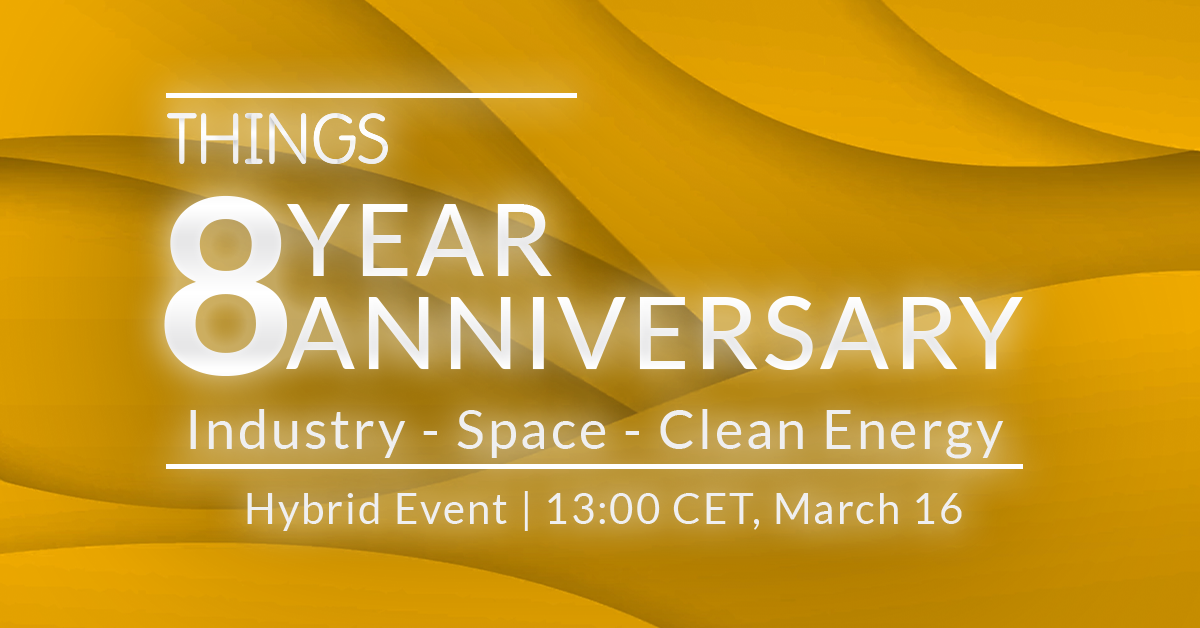 THINGS 8 Year Anniversary, March 16 will be an intense afternoon as THINGS is celebrating 8 years! We follow last years hybrid format and thus offer a limited on-site celebration, devoted to our members who can join us in Stockholm, combined with a digital version open for everyone!
Executive Summit™
Industry, Space & Clean Energy
Take part in our Executive Summit™ where we present a marathon of nine real-life cases with our sharpest deeptech Members and their customers.
Find out how great companies solved a customer problem, what the results were and what they came to learn in an inspiring, interesting and thought provoking event!
Cases are carefully mixed with three Insights on important technologies and concepts for Executives to be aware of and bring home to ensure that strategies and plans are kept up to date.
This edition will focus on Industry, Space and Clean Energy, and we will continuously update the event site with insight speakers and cases as they are confirmed.
"THINGS Executive Summit is one of the highlights of the year. It's a golden opportunity for us to pitch experiences and inspire people at partner companies who have an expressed interest in smart IoT and what we do. Contacts and interaction opportunities are hard currency, and you can never get too much inspiration."

– Jon Lindén, CEO & Founder at Ekkono Solutions
Wall of Fame™ no.9
THINGS Wall of Fame™ entrepreneurs are carefully selected and revealed on our anniversary each year. The award goes to an exceptional and inspirational role model within the community of entrepreneurs; someone who has built a successful business empire based on pioneering innovative technology. Now it is time for #9 – join us to see who it is, and hear the story behind the success!
"What I love about THINGS is that it is a tremendous supporter of deep-tech start ups. THINGS superpower is pairing corporate ready startups with startup ready corporations. We are pleased with the level of corporate exposure and introductions we have received and look forward to helping manufacturing companies in the THINGS ecosystem accelerate their digital transformation journey by leveraging nFlux AI solutions."

– Adam Phillips, VP Business Development at nFlux
Catch up with THINGS
THINGS 8 Year Anniversary also offers an update about what is cooking at THINGS. As we have started this year with projects in industry, space and clean energy we have a lot of opportunities for both startups and coirporates eto find, share and explore new innovative solutions across the globe!
*Note:
On-Site attendance is exclusively permitted to current THINGS Members. Visit our website to find out more about THINGS Membership for Startups and Corporates.
No-show fee: Please note that we apply a No-show fee of 100€ for free, on-site tickets that are not used. As we have a limited number of participants, booking a ticket and not using it will stop another person from attending. If your plans change, please cancel your ticket by April 23 to allow someone else to enjoy the event and avoid the no-show fee.